We are really able to multiply your hair follicles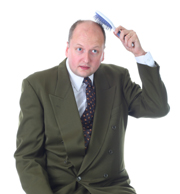 Even though hair loss associated with age can be regarded as a natural phenomenon, in case it exceeds a threshold of moderate natural hair loss we can already talk about the hair loss disease called alopecia. This disease affects millions of men and women all around the world. There are about 40 % of men and 35 % of women suffering from it in the Czech Republic.
There is nothing wrong with the fact that we want to look better, younger, fresher, have more chances in the labor market, or just return the feeling of wind in your hair. PANACEA HAIR CLINIC will help you by using a modern and considerate GHO-FM method which has been performed with excellent results by an experienced team for many years.
The problem may not be only the head. Every second woman deals with genetically poor eyebrows and eyelashes. The era of permanent eyebrow tattoo and artificially painted lines is now over, and we are able to help very effectively and invariably also in this case. Hair (Other hairs) may, in addition to a genetic predisposition, fall out or become ill in any way as a result of mental and physical stress, the chemotherapy, radiotherapy, or we can come to them by injuries, namely burns.The consequences of this infliction can be corrected by an autotransplantation own hair.
If we intercept hair loss in time, such as in the stage of thinning hair or receding hair line, just a supportive treatment may be adequate. The supportive treatment will be recommended to you following a thorough examination by our expert. This treatment can be recommended alone or in combination with transplantation. If the hair is already at a stage where supportive treatment would have little chance to succeed, then a transplantation comes into question. At our clinic we use the latest GHO-FM method, a painless method without scarring and with permanent results.
The basis for this gentle, non-scalpel method is the transfer of each individual hair graft by a special needle. From areas that are genetically programmed not to subject hair fall, the grafts are transferred to areas where they lack. You can find more details about this method on the GHO-FM method page and in our photo guide in section Case studies.
Hair transplantation can solve the following situations:
receding front hairline

formation of male and female receding hair on temples

thinning the crown (the knob)

scars after injuries, burns and older types of transplants

loss of eyebrows for different reasons

other hair loss (face fungus, eyelashes)
Can you prevent problems with your hair?
Yes, you can. The idea that the only and salutary solution of hair loss is their own transplantation, may be a mistake . The trouble with hair can be prevented. But do not get tempted by ads on various miraculous products, creams, lotions or tablets, and certainly not without the previous analysis, which alone can determine whether the site is healthy or not and able to autoregenerate.
As part of initial consultation, our clinic offersa trichologic test to define the stage of damage to the hair and helps to determine who is and is not a suitable candidate for a possible transplant. If there is a chance to succeed with the supportive treatment products, our experts recommend quality products that meet all desirable criteria and attests and which they unconditionally trust.
Overview of our certified products is here.