During a tentative consultation based on an interview and an need analysis, our experts will suggest an optimum solution to your problems. This may be either surgical in the form of a transplantation or conservative in the form of a supportive therapy. Single solutions are always designed to achieve the results which will suit to all your needs and desires. This initial consultation may lead to further need for additional input data. The client will bee recommended to undergo:

a hair testing by trichogram
genetic test for hair loss
bioresonance examination of deeper causes of hair loss
imunity violation test through the IMAGO 500 diagnostic program
biochemical examination (blood test)
Prices of initial examination

A 30-minute consultation with chief physician of the PANACEA HAIR CLINIC Peter Hajduk 1 000 CZK.
A 30-minute consultation with a medical expert is 700 CZK.
Preoperative examination is 750 CZK.
Trichologic examination is charged at 1 000 CZK.It takes about 45 minutes and the results are ready within 10 days.
The price of genetic tests is approximately 5 500 CZK. The analysis is carried out by a laboratory in Luxembourg. The results are ready within 14 days.
Biochemical testing is charged from 600 to 800 CZK, and the results are ready within 5 days.
A 60 minute test by the IMAGO 500 bioresonance device is charged 3 500 CZK (Mgr. Simona Brusová) or 4 500 CZK (MUDr. Peter Hajduk). The results are ready within 7 days.

Payment methods

We accept payments in cash for all examinations, surgical interventions and supplements. We do not accept credit cards, debit cards or cheques! We can accept payments via bank transfer as well but only if you make the payment in advance (before examination or surgical intervention). Please, if you wish to pay via bank transfer, contact us to arrange all necessary details.
Prices of transplantations, ALL – IN price system
Since its foundation, PANACEA HAIR CLINIC has been using a transparent pricing system with the ALL-IN tariffs and has never increased the price per graft. You never pay more than what was previously agreed.
The total price of the treatment depends on the number of implanted grafts. A single treatment must comprise at least 100 grafts. Lower number per treatment is possible only after an agreement with the surgeon. Basic charge is 9 500 CZK per treatment.
For more information please contact: tel: +420 222582340, Mobile: +420731152052, email: hair@panaceahairclinic.cz, info@panaceahairclinic.cz.
Quantity and loyalty discounts:
more than a thousand of transplanted grafts, 9% discount on the total price of the treatment.
repeated treatments (within a thousand grafts) 7% discount.
over 2500 grafts 13% discount on the total price of the treatment.
Discounts are not cumulative. Usual price for one transplanted graft is 95 CZK.
For a firm booking of a one-day surgery, the patient is bound to an advance payment of  500 EUR or 1 000 EUR in case of two-days surgery. This deposit can be paid in cash during the consultation or in cash personally on another agreed time orcredited to the account of the clinic so that the amount were credited to the clinic three weeks before the surgery. This deposit is refundable under predetermined conditions which are always explained during the consultation.
Accommodation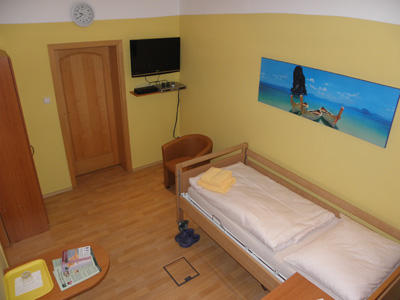 For our customers from the outside of Prague, we can arrange accommodation directly in the clinic. There are single patient rooms equipped with television, radio, toilet and shower only 5 metres distant from the patient room. The wi-fi can be used per request. Thus we ensure a complete privacy and comfort for you. During your stay in the clinic, you may also park your car in our garage free of charge.
Total price per room per night including breakfast is 1 300 CZK.
In case you preferred accommodation outside the clinic, we can recommend you the Hotel VOYAGE which is situated within striking distance of our clinic so it can offer you full comfort during your use of our services as well.