We can really multiply your hair follicles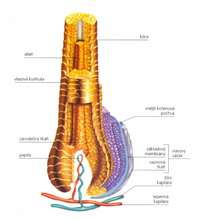 There are multiple methods of solving the problem of hair loss. From a conservative treatment to the hair transplant. However, none of the methods would be effective without detailed knowledge of the quality of your hair. To be able to choose an optimal method of treatment or a solution to your problem, it is necessary to perform a thorough trichologic examination of the hair. The procedure is carried out by a specialist - dermatologist through a dermatoscope, a special camera and software able to find out the vast majority of hair and skin pathology to identify and correct strategy of the hair loss treatment.
In other words, the examination, lasting 40 minutes and being adequate to the price of an average dinner for two, can save you thousands of crowns spent of ill-chosen cosmetics and tens of thousands for an unnecessary transplantation. Be careful, however, of the so-called trichologists presenting themselves in commercials! The examination can not be disregarded. Make sure that the examination is conducted by a trained specialist with certain knowledge of hair and skin pathology not just by a beautician who has passed a crash course! Although the examination is painless, it can change a part of your life in both good and bad.
Find more details on trichology examination here.
Initial consultation, analysis of the problem and its causes
Even though we are triing hard to answer most of your questions on our website, the only impeachable answer to your particular problem can be given to you by an expert after a thorough examination. Even when clients send us pictures of a relatively good quality, they cannot replace the examination of the condition of your hair and the cause determination.
At PANACEA HAIR CLINIC, we care for each client individually. In addition to the above described trichologic examination, it is necessary to determine precisely the client´s history and identify the client´s needs and subjective perceptions of their hair problem. Mental status and stress are the major enemies to each treatment and therefore the status and perception of the client are vital to our experts.
Pharmaceuticals, cosmetics, HairLux - biostimulation laser comb – further treatment methods
Following the performance of trichologic examination, the doctor can determine the origin of your problem and recommend a follow-up treatment. This treatment may contain our recommended supplements or treatment by the biostimulation laser comb HairLux, namely if the client reaches us with his problem in time. These treatment methods are also indicated in the post-operative care and post-traumatic accident states.
GHO-FM transplantation method
A modern, very gentle and painless method that guarantees a permanent solution. It is especially suitable for the solution of the receding hairline on temples, the receding hairline and thinning at the crown.A successful treatment is possible also in areas with no hair such as scarring (loss of hair due to accidents, burns, obsolete and unfit strip transplantation methods).
At our clinic, we use only the GHO-FM transplantation method, a painless method without scarring and with permanent results.