The trouble with hair loss can be prevented in many cases, or at least can be slowed in its inicial stage. Of course, the sooner we deal with them, the more efficiently they can be solved. It is not always necessary to deal directly with difficult and costly transplants. Our goal is the natural appearance of the client and therefore we show and recommend such techniques and products which would meet the needs of a specific client. During the first consultation, an expert examines your hair growth (or other problematic part) and, in case a positive effect of therapeutic agents avoiding hair loss and restoring the original growth position of your hair is expectable, then you are recommended these supplements instead of a transplantation or at least their desirable combination with the surgery.
As the market leader in hair problem solving, we only recommend and offer products and specimen, which we unconditionally trust as they meet the necessary criteria and certifications.
Our experts recommend:
Drugs and nutritional suplements
is an unique nutritional supplement in solution.

Price:  1 900 CZK / 30 amp.

Colloidal silver

Colloidal silver spray

Price:

100 CZK / 15 ml 
150 CZK / 30 ml

Revitalon

Effective productfor your healthy hairgrowth.

Price: 320 CZK / 60 tbl.
Hair nad skin care
Thera Neem shampoo 490 CZK
A mixture of neem extracts, herbal moisturizers and vitamin B5 helps to maintain a natural balance of the scalp, protects and restores hair structure, reduces fraying ends of hairs and helps to increase their volume. It is suitable for all hair types, especially for treatment of a problematic and sensitive skin prone to itching. Thera Neem shampoo positively influences the formation of dandruff.
Neem - Melia Azadirachta is a tropical evergreen tree from India (lat. Melia Azadirachta), which repels various plant pests and parasites.
Neem extracts contain not only many important vitamins, minerals, amino acids or fatty acids, but also substances found nowhere in nature - such as nimbin, azadirachtin, nimbidol, quercetin, nimbidin, etc. This gives the neem cosmetics a variety of unique effects on your skin and hair:
     brings relief to skin affected by dandruff
     improves the skin's natural defense to viruses, bacteria and fungi
     helps to protect skin from harmful solar radiation
     moisturizes and softens the skin
SERUM Dermaheal 770 CZK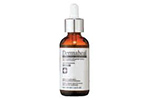 The serum is designed for application either directly or by using a special roller to the scalp. The applicator (as in nasal drops) should be used to the skin in the desired area following the previous use of a roller with microneedles. It is recommended to roll the skin for 1-2 minutes to create micro-skin openings, through which the active serum can penetrate the skin. The application of the serum is ideal 1-2 hours before bedtime. It is recommended to apply the serum into both afflicted and healthy areas, 2 - 4 times a week in both men and women. It helps to maintain healthy skin and supports faster growth of the hair follicle after transplantation or conservative treatment. The serum contains extracts from 6 herbs, 6 growth supporting factors (extract of stem cells) and essential amino acids.
Hair Shampoo Dermaheal 370 CZK
This shampoo is used for washing the head in both men and women. The recommended frequency is 1 to 3 times a week. Suitable in the postoperative period or during times of increased stress. Contains extract of 6 plants, growth supporting factors and basic amino acids.
Dermaheal HL SOLUTION for hair mesotherapy, Prevention of hair loss for women and men 4 500 CZK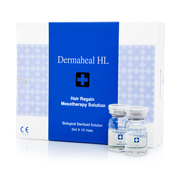 Hair Serum Dermaheal is intended for the use on the skin or just into intradermal space. Its ideal way of use is in combination with a micro-roller. Then, active ingredients may reach the hair roots easily. Serum is addressed directly to the skin, ideally using a roller with mikroneedles to scalp either as a prevention in healthy hair or to heal the affected areas (this applies primarily among women aged 16-60 years). Of course, it can be applied in men, but in this case due to its composition, more effective is Renoskin preparation. The serum should be appllied at least 3 times a week but can be used even on daily basis. It contains extracts of six herbs and hair growth supporting factors and basic amino acids. 
Application: Apply through an applicator (such as in nasal drops) directly to the affected area of skin. Before that, we recommend to use the Mi-Roll roller to create micro openings in the skin for a period of one to two minutes which enable the active penetration of the serum.
Renokin, The revitalization program to prevent hair loss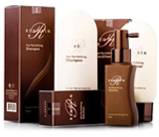 Composition of Renokin was created based on research of growth factors and biomimetic peptides, which currently belong among the most active agents to restore the hair. Moreover, thanks to the nano-capsule technology (part of nanotechnology), these substances can penetrate into the cells of hair follicles and revitalize hair from the very base. The effect lies in the composition - 10 active ingredients, namely: three biomimetic peptides (proteins) CG - Nokkin, CG - Keramin 2 and CG-WINT. CG - Nokkin supports hair growth, strengthens and stimulates the hair follicles to produce healthier hair. Keratin CG-2 supports the proliferation of new hair cells and their migration, which causes amplification of hair follicles and the central part of the hair. CG - WINT creates, in case there still is, the rest of the new stem cells of the hair follicle. The preparation also includes two vitamins and five plant extracts that have antioxidant and revitalizing features. These patented biomimetic peptides and other active ingredients works directly in hair stem cell, which they stimulate. This way, they stop hair loss and support its regrowth. Subsequently, the hair thickens, grows and gain new shine. With the effect of peptides, Renokin reduces levels of DHT (dihydrotestosterone), which is largely responsible for the creation of the androgenetic alopecia in men and women. When using Renokin, you do not risk any side effects. This preparation can be used also by women.
Indications:
Broadly thinning hair
Excessive hair loss
All types of alopecia except for the so-called scarring alopecia
For maximum effect it is recommended to use a wide range of products Renokin, ie. Renokin or Dermaheal shampoo and Renokin or Dermaheal conditioner.
Usage as follows: First, wash your hair with the shampoo, then treat it with the conditioner. You should dry your hair and apply a necessary amount of the serum onto the desired area of the scalp. The serum should be gently massaged into the skin. To prevent your wasting money, please use the Mi-Roll roller for better absorption of serum. Your hair does not need to be washed every day, but it is always necessary to apply Renokin into dry hair at least in the morning and, ideally, also in the evening. The preparation should always remain in the site for at least 1-2 hours, you shouldn´t wash your hair during this period. The effect can be observed after 3-5 months of use.
Pricelist:
Renokin Shampoo 360 CZK

Renokin Serum 1 450 CZK

Renokin Conditioner 370 CZK