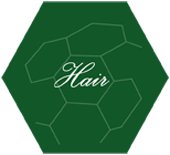 Hair stimulator Revitastem HAIR is a unique dietary supplement in liquid form - drops. Tissue hydrolysates act as bioactive substances (eg amino acids, peptide complexes and growth factors). They show a strong regenerative and stimulating effect on hair follicles and scalp. This dietary supplement is not suitable for children under 3 years of age and is not a substitute for a varied diet. It  cannot be used as a replacement therapy for medicines. Hair stimulator contains hydrolysates inhibiting the enzyme 5-alpha-reductase that converts testosterone to dihydrotestosterone (DHT). DHT is associated with the hair loss especially in men, but also in 40% of cases of female alopecia, hydralysates inhibit the transport of DHT to the hair follicles, supporting the hair growth,  the access of nutrients to the hair roots and scalp. Hydrolysates prove a positive effect on the quality, strength, and thus the appearance  of hair and significantly enhance the healing process of the skin after hair transplant. They are also suitable for a conservative long-term supportive therapy in the event of hair loss.
What does this nutritional supplement contain?
The main active component are the hydrolysates (specifically the extract from Japanese tea leaf - Camellia japonica L. var. Benifuki, the extract of  of nettle leaf - Urtica  dioica L., the extract  of ginseng leaf  - Gynostemma pentaphyllum L., the extract of  white thistle - Eclipta alba Hassk, the extract of Indian gooseberry - Emblica officinalis L., the extract of  Hydrocotyle asiatica L.). Sodium chloride, potassium chloride and calcium chloride dihydrate have a stabilizing function.
Instructions for use
This supplement is administered orally. We recommend its administration in the morning before  oral hygiene. Rinse your mouth with clean water. Pour contents of the ampoule under the tongue and leave it there for 30-60 seconds, then swallow.  Do not drink or eat for at least 10 minutes following the administration of the food supplement. One supportive treatment consists of 30  or 60 ampoules. Recommended dosage is usually one ampoule daily for 30 days (one month treatment) or for 60 days (two months' treatment). The product should be kept at temperatures between +4 ° C to +8 ° C must not be exposed to frost and temperatures exceeding +25 ° C. If these conditions are met, this nutritional supplement can be stored up to 18 months, but always respecting the  information on product packaging. Low molecular weight of all organic components is a prerequisite for their absorption into the mucosa of the oral cavity. Ultrafiltrates of different organs and tissues are primarily used as biological building blocks for replacement of the faulty molecular parts and help structural regeneration and functional improvements based on organospecifity. The dietary supplement does not contain sugar, gluten, preservatives. It is suitable for diabetics and people suffering from celiac disease.